The Secret Soldier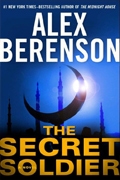 Release Date: February 8, 2011
Published: February 8, 2011
John Wells may have left the CIA, but he hasn´t left the high-stakes world of espionage, where hidden battles determine the fate of nations.
In Saudi Arabia, King Abdullah is losing his hold. A series of terrorist attacks has put the Kingdom on edge. Powerful forces are plotting against Abdullah, and his own secret police cannot be trusted. With nowhere to turn, the King asks for Wells´s help.
Reluctantly, and with the secret blessing of Ellis Shafer, his former boss at the CIA, Wells agrees. But as he begins to unravel the conspiracy, it takes an unexpected twist, becoming more dangerous than Wells ever imagined. The plotters want more than the fall of a monarch. They want to start the final battle between America and Islam.
Soon Wells, too, is unsure whom to trust. And he will be stretched to his limits – and past them – as he races to stop the plot.