The Ghost War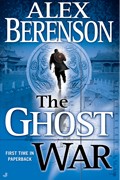 Release Date: February 12, 2008
Published: February 12, 2008
In The Faithful Spy, John Wells became the only American CIA agent ever to penetrate al-Qaeda, but his handlers became distrustful of him, and he of them. He had to stop a devastating terrorist attack nearly alone.
Now Wells is back in Washington. HIs wounds have healed, but his mind is far from clear. He is restless, uneasy in his skin, and careless with his safety. When the CIA finds evidence of a surge in Taliban activity, backed by an unknown foreign power, it takes little to convince Wells to return to Afghanistan to investigate. But what he discovers there is far from what he expected.
Real-world threats, authentic details, a scenario as dramatic as it is plausible – The Ghost War is another "timely reminder of the extremely precarious way we live now" (The Washington Post).